This will be the list of all the themes and entry windows for the Monthly ATC Contests for 2011.
I will open threads for each month's contest so we can have the normal chit-chat.
sample prize packs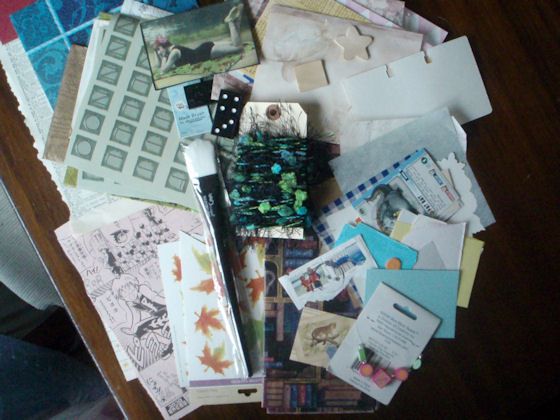 ---------------------------------------------------------------------------------------------------
To enter, submit no more than one (1) ATC entry in the selected theme to "goatgoddess@live.com" in standard jpg format (No less than 150 dpi please).
Can't stress this enough - Please note the following! - so your card gets listed in the contest come voting time!
1. send your card as a jpg to
goatgoddess@live.com
2. Please be sure to include your AFA username when submitting the entry.
3. be sure to send a large enough picture (at least 300 dpi) pictures posted for voting are 250 pixes wide - larger is fine - smaller pictures sometimes don't show the art at it's best
Please no watermarks or signatures on the front of the image as we are trying to keep all entries anonymous to better the contest experience. All members are welcome to participate.*
Please refrain from posting your entries into the contest gallery until after the voting has occurred. Once we have announced the winner of the contest feel free to upload it and claim your card!
*No participant can win more than one prize per year - the year will run from Jan 1 thru Dec 31. You are still welcome to play but once you win, your card is ineligible for voting till the next year.
If I have missed something please let me know! Feel free to pm if you have suggestions. I look forward to seeing what everyone comes up with.
January 2011 - *
Theme:
sun/moon/stars
Entry Window: 1/1 - 1/31
1st Place: Judylee
2nd Place: Papermoon
February 2011 - *>
Theme:
Black and White
Entry Window: 2/1 - 2/28
1st Place: Pfifer80
2nd Place: EvilSeedlet
March 2011 - *>
Theme:
Not Quite Human
Entry Window: 3/1 - 3/31
1st Place: Ayjchan
2nd Place: Artsygirl
April 2011 - *>
Theme:
color challenge - group of colors listed to work with
Entry Window: 4/1 - 4/30
1st Place: Phoenix
2nd Place: andyaly
May 2011
Theme:
take flight - Wings
Entry Window: 5/1 - 5/31
1st Place: CeeJay
2nd Place: theweavershand, noisybrain and Nightvamp
June 2011
Theme:
Birds
Entry Window: 6/1 - 6/30
1st Place: lemurkat
2nd Place: shahzaadee
July 2011
Theme:
Fish
Entry Window: 7/1 - 7/31
1st Place: shayNOLA
2nd Place: Kat
August 2011
Theme:
Cats
Entry Window: 8/1 - 8/31
1st Place: shewolf36
2nd Place: Genxster
September 2011
Theme:
Hidden in the Layers
Entry Window: 9/1 - 9/30
1st Place: Rubbybarr
2nd Place: Kaci
October 2011
Theme:
Asian
Entry Window: 10/1 - 10/31
1st Place: QuriousQat
2nd Place: Jan
November 2011
Theme:
Windows
Entry Window: 11/1 - 11/30
1st Place: Jo.on.the.go
2nd Place: Sainteve
December 2011
Theme:
Roads - the road not taken, roads to no where, ect...
Entry Window: 12/1 - 12/31
1st Place: kristinized
2nd Place: locatray